Published September 3, 2023
Estimated read time: 3 minutes
---
Coachello makes its Teams App - M365 certified - available on Microsoft AppSource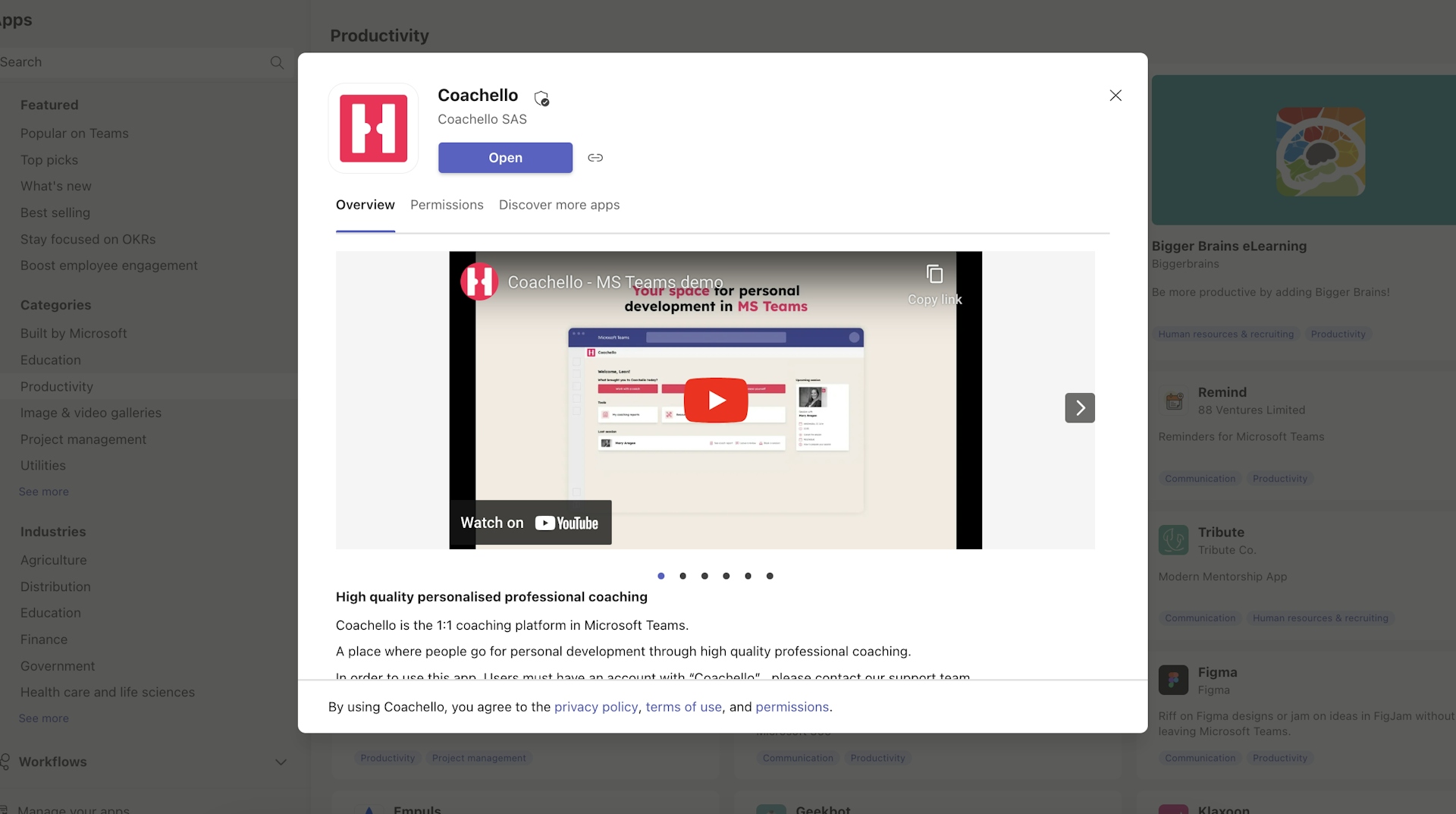 Coachello makes its Teams App - M365 certified - available on Microsoft AppSource
PARIS, Île-de-France, France — March 28, 2023 Coachello today announced the availability of the Coachello App on Microsoft AppSource, an online cloud marketplace providing tailored line-of-business solutions. 
Coachello is a leading platform for online coaching to fuel the growth of your leaders at all levels. At Coachello, we understand that everyone is different and that's why our online coaching service is 100% personalized to cater to your people's individual challenges. Coachello connects your (emerging) leaders with top-tier coaches who are passionate about helping them achieve their goals. Coachello's mission is making the highest quality of coaching available in the most efficient and measurable way possible, data- and AI-driven. Whether your leaders are looking to improve their professional skills, enhance their wellbeing, or gain a better understanding of themselves, Coachello has the competence you need.
  Coachello app on Microsoft Teams offers 1:1 professional coaching from ICF certified world-class coaches at the fingertips of your emerging leaders, with access to asynchronous coaching, embedded functionalities like a 360 speed, vast range of resources and personalized exercises. 
  In practice, Coachello allows your leaders to assess themselves through a series of questions and obtain the results right away in order for them to understand which skills and areas they need to work on. Based on their test results our app will provide them with automated coach recommendations while also giving them the option to explore and choose coaches based on their preference. On top of that, on the admin dashboard of the Coachello App, you will be able to keep an eye on the usage, growth, coaching topics, and satisfaction by receiving a quantitative analysis of the development of your talents.
Furthermore, Coachello is a Microsoft 365 certified application. Microsoft 365 Certification involves a thorough audit of an app against a set of controls derived from leading industry standard frameworks. This means we have implemented strong security and compliance practices which act in place to protect your data security, and privacy.
 Hence, we are confident that our Coachello App on Teams will be an invaluable asset to you and will aid your leaders to reach their full potential, beyond learning. 
"A coaching culture, that's what most of our clients are after. Creating a culture of growth, self-learning and personal development. By embedding Coachello into the workplace with Teams we help our clients measurably fuel the growth of their leaders at all levels and their organization. Coachello for Teams equals the elevation of your people and organization."
Leon Wever co-founder of Coachello.io
Coachello is a coaching platform which combines a data-driven tech solution with the help of world-class certified coaches to offer the best experience to leaders at all levels around the globe. Our mission is to make a positive impact by allowing every employee to reach their full potential while helping clients to create a coaching culture to fuel the growth of their people and organization.
For more information, press only: 
Litissia, Coachello SAS, litissia@coachello.io, press-requests;
Leon Wever, Coachello SAS, +33651410196, leon@coachello.io, anything else.